Even though we are only a week away from Jillian's first birthday, I had to write her 11 month post before I forget. I can't believe that this is one of the last pictures that I will be taking of my baby girl with her monthly onesie stickers on them. I have to say that buying these stickers was one of the best purchases that I made. Looking back at all of Jillian's monthly pictures is, without a doubt, an amazing transformation into the beautiful little girl that she is today. I will cherish these pictures forever. As previously mentioned in other posts, it has gotten harder and harder to take her picture!!! I practically have to duct tape her body to the chair now to keep her from leaping out and severely injuring herself. This time around I enlisted Jeff's help for entertainment value and to catch her if she tried leaping out of the chair again. Perhaps it's a good thing that these monthly picture sessions are coming to an end!!!

As Jillian's first birthday approaches, I am constantly reminded lately on how I was feeling last year at this time. Not wanting to leave the house in fear of contracting the swine flu or afraid of slipping and falling on an icy sidewalk. I also remember this time last year leaving for work each night thinking that it may be my last for a long time! Everywhere I look or everything I experience lately constantly reminds me of how I felt those last few days leading up to the day I became Jillian's Mommy, before my life would be changed forever.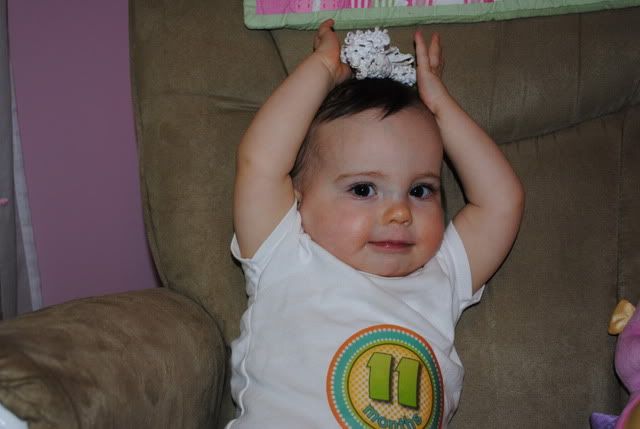 I am excited to say that Jillian is now a great sleeper. As hard as it was, having her Cry It Out a few nights has completed changed her life and ours. She goes to bed every night now without a struggle. Jeff and I no longer take turns trying to get her to sleep. Jeff and I actually have our evenings back to enjoy each other. Jillian actually now spends her evenings getting 1o or more hours of quality sleep. Jillian is in bed by at least 8:30pm, sometimes earlier if she is over tired, and will sleep until around 7:00am. I can only count a handful of times that she has woken up at night and cried. So now when she does cry in the middle of the night, I know something is really bugging her and it is no longer out of habit. Lately I feel that we may need to move Jillian's bedtime up to around 8pm. By the time 8:3o rolls around, more times than not Jillian is already starting to become cranky and over tired. Tonight we put her to bed at 7:45pm and she was already a basket case!!! I am sure teething may have something to do with it.

Speaking of teething, Jillian still has only two bottom teeth although I can now feel her two upper teeth coming through. Jillian is such a sweet and pleasant baby so you know when she is cranky, something must be really bugging her. I swear it seems like she has been teething for months with her two upper teeth. I will be thrilled when they are finally in. I swear she is going to wake up one morning with a full set of teeth the way she has been teething lately. I think that because she is teething, she has been waking up at night a lot more than usual. We have gone weeks without a night awakening and now it seems to be happening once every few days lately.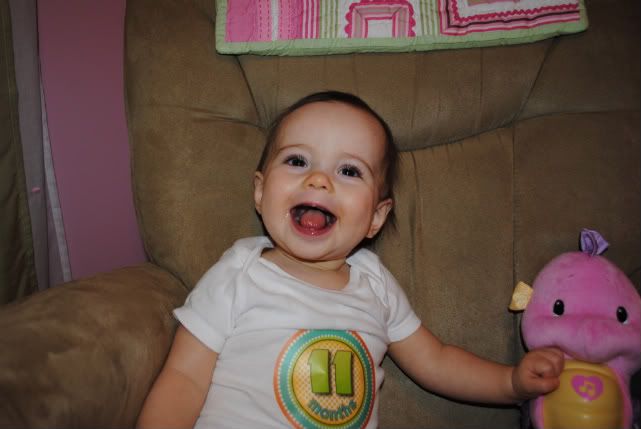 One of my favorite things is to listen to Jillian enjoy a meal. She makes the cutest humming noises as she chews her food. Jeff and I affectionately call it "purring". I took a video the other day of Jillian purring and I will have to share it with you all soon. You also knew when Jillian is eating something that she enjoys because she will stop purring for a moment and give you a double arm flap. You know when those two arms start flapping like crazy that you have picked a winner. I was off from work the week of Thanksgiving. My goal during that time was to fully transition Jillian over to table food. Jillian moved up to the next room in daycare this week and I really wanted her to start eating from their menu like all of the other kids in the new room. The transition went so well. She loved everything that I put in front of her. Jillian has successfully eaten grilled cheese, Kraft macaroni and cheese, Tyson chicken nuggets, green beans, broccoli, Cheerios, Baby Goldfish crackers, Oyster crackers, and L'eggo pancake mini's and waffles. We even ordered Jillian her own grilled cheese sandwich at Panera one day for lunch! She was such a great eater that week that I thought this transition was a piece of cake. I was so happy that I was going around telling everyone what a great eater Jillian was and how she wasn't picky at all!!! And then she got the flu...... Now she is an extremely picky eater and we have pretty much resorted back to eating baby food! She refuses to eat vegetables if it's not in a baby food consistency and also no longer likes Kraft Mac & Cheese! So I am struggling right now with what to do with her. I think I am going to just have to slowly start to reintroduce table foods again and just hope that she starts enjoying them again. I certainly can not blame her. I also got the flu and my stomach just doesn't seem to be the same either. Hopefully this too will pass. Jillian is exclusively a formula drinker now since I weaned her off of breat milk last month. She took to the transition so much easier than I had anticipated. I honestly don't even think she remembers what it was like to breast feed which honestly does sadden me a bit. However, the count down is on to her first birthday where we plan on getting rid of all her bottles and formula. I have already spoken to my pediatrician about whole milk and she has given us her blessing to start giving it to her once she turns a year old. It's hard to believe that I may have just bought our last supply of formula and that our days of washing bottles are coming to an end!!! Jillian is a pro with a sippy cup so I am feeling pretty hopeful that it will be an easy transition.

Jillian is not talking just yet, however, still says the occasional Momma or will try to sputter out "Papa" whenever her Papa is around. We think she has tried to say "Dada", however, we are not convinced just yet. I fully believe that she does know what we are saying to her and will respond to our conversations by pointing to objects that we mention or respond positively or negatively with noises or fusses. If you were to ask her where Mommy or Daddy is, she will look in our direction or point to one of us. She also will crawl or point to her Snoozer bear or Elmo doll if we talk about one of them.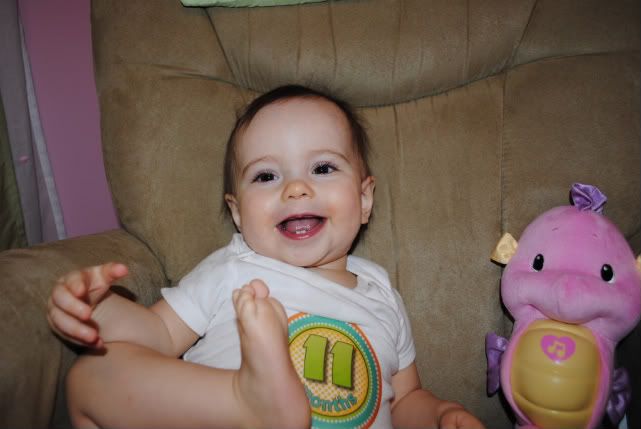 One of the cutest things that Jillian does is give "smooches". She has been doing this for a few months now with me and now she wants to smooch EVERYBODY. My whole family got together over the week of Thanksgiving to have our pictures professionally taken and all Jillian wanted to do was smooch the twins and smooch my sister's little girl. It was hilarious and just oh so sweet! Jillian has such a big heart and just wants to love on everyone!

Jillian is a champion crawler and is on the verge of taking her first steps. Even though she has only pulled herself up on to furniture a few times, once she is up there, she will concentrate very hard on moving her feet and pulling herself along the different pieces of furniture. Right now she loves walking along our coffee table and will do laps several times a night. It's so fun to watch her concentrate so intently on what she is doing. I have found that she certainly takes more of an interest in furniture walking after the two days she is in daycare.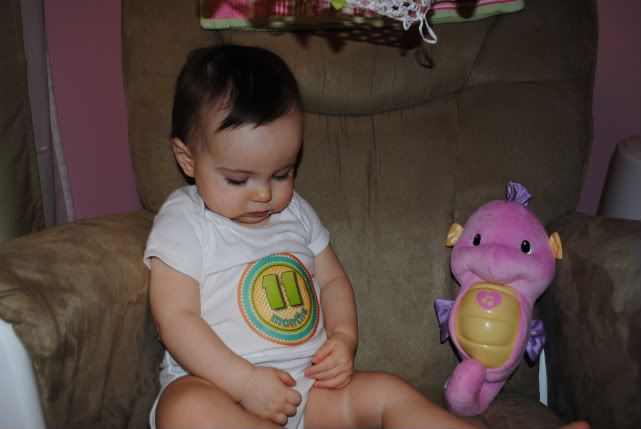 Jillian is also starting to show signs of separation anxiety and has been wanting me more and more lately. Dropping her off at daycare lately has been hard and it usually ends with both of us in tears. She just started her new room this week, Infant II, and I think the fact that she is going through separation anxiety and that she still isn't used to her new teachers yet is causing a problem. I feel so awful leaving her while she is crying and reaching out for me. I feel like the worst Mom in the world. I have to keep reminding myself that when she does settle down, she absolutely loves playing with her friends at daycare and that she is only there two days a week.

Jillian lately HATES to have her diaper changed whether it's on her changing table or even on the floor. She screams bloody murder and I have to continuously wrestle her back in place. It's like trying to wrestle an alligator. It's crazy! I am not sure if it's due to the really bad diaper rash she had a few weeks ago so now every time she thinks I change her it's going to hurt or what. Hopefully this is just a phase because I now dread every diaper change.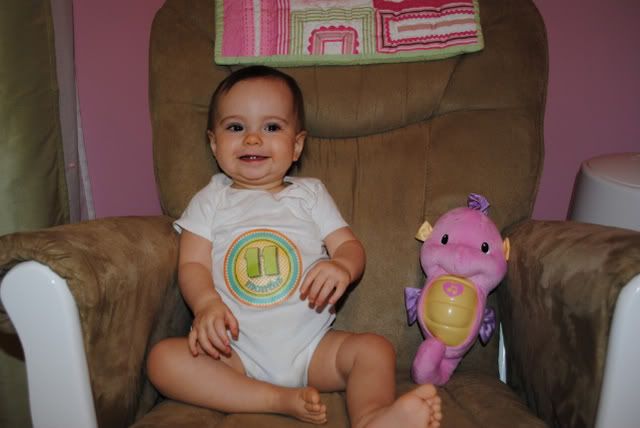 Jillian's 11 Month Stats:

Weight: 18 pounds 4 ounces - We were able to weigh Jillian at the pediatrician's office last week when she was in for the flu. Shehas lost some weight since her last time at the pediatrician's office although it was probably due to the fact that she had the flu.

Clothing: 6-9 months. Jillian is still a little peanut and is comfortably still wearing all of her 9 month Carter's clothes. Several of her pajamas are twelve months since she has her Mommy's long legs. Every now and then I will try one of the twelve month outfits she has sitting in her closet and they are just way too baggy on her.

Height: We didn't measure Jillian this month, however, she was 28.5 inches a few weeks ago.
Diapers: Size 3.
Favorite Toys: Books, Blocks, Fisher Price Laugh and Learn table, and the V Tech electronic book. Jillian still loves her Snoozer bear, however, Elmo is fast becoming her new favorite.
Favorite Book: The Ten Little Lady Bugs.
Favorite Past time: Bath Time.
Communication: Clapping, waving her arms, saying "Ah!", pointing, and giggling.
Bedtime: Between 8pm and 8:30pm.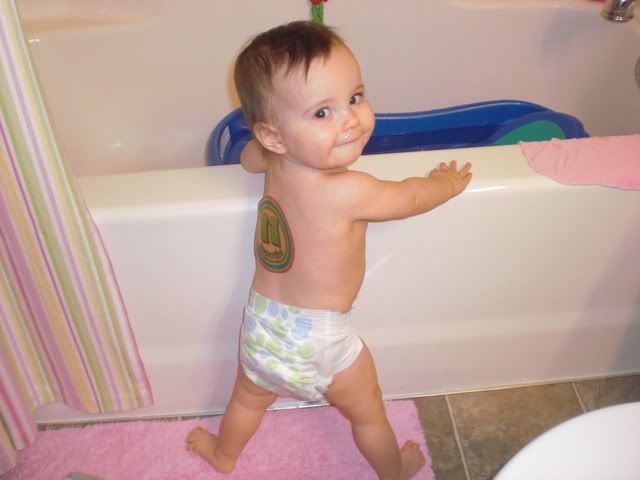 It's so hard for me to believe that Jillian's days of being considered a baby are numbered. It won't be long now until she is walking and another new chapter of her life will be beginning. It's been an amazing, although sometimes challenging, ride so far and I have loved every minute of being Jillian's Mommy!