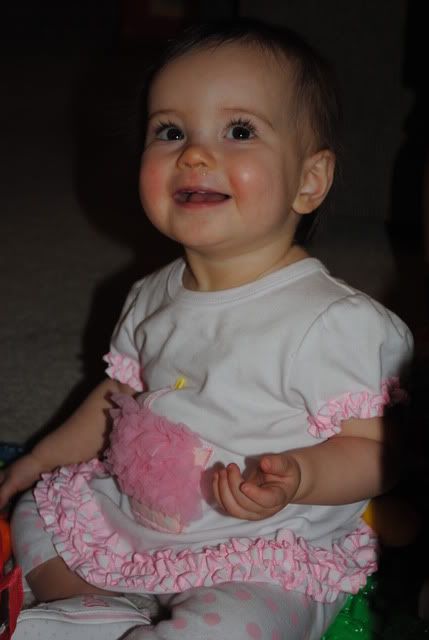 This birthday girl had so much fun at her party!!! Jillian is blessed with six girl cousins and had a great time hanging out with them. I felt like I barely saw her all day. She was constantly being cuddled and passed around by her loving family or crawling after her cousins, trying to keep up with them. I am so glad my baby girl had such a great time. Since the party started at 3pm, an afternoon nap was just not on the agenda and she did great. Wasn't even cranky until the very end.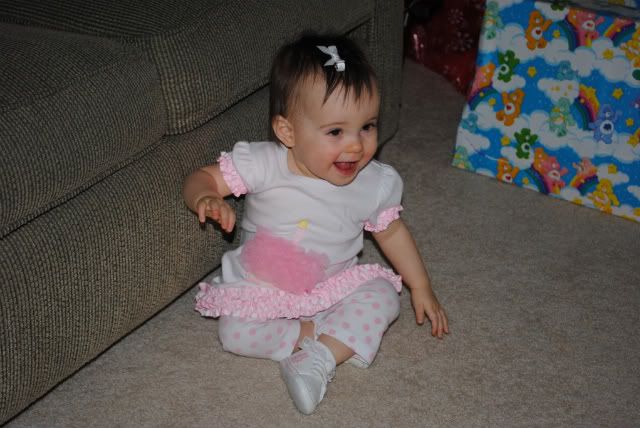 My friend Andrea picked up this beautiful birthday outfit at a children's boutique. I thought she looked absolutely precious in it. It was the perfect outfit just for her.
A family photo in front of the tree.
Jillian took a swipe at the smash cake the moment it was put in front of her but started fussing and whining as soon as her hand touched the frosting. I don't think my little girl liked having dirty hands.
I am so glad my sweet girl had a great birthday!! It was so much fun to plan such a special event for her. Hopefully she will look back one day at all of these photos and see how much she was loved by so many family and friends.