Even though I only had a few weeks to plan Jillian's First Birthday Party, I feel like it really did come together in the end. I thought long and hard about the theme for her big day. I thought of the typical pink and green theme, a princess theme, a cupcake theme, and I even found a cute pastel polka dot theme at our local party goods store. In the end, I realized that I already had a built in party theme - Christmas!!!! I was all set to spend New Year's Day taking down our Christmas decorations when I realized that I already had the house pre-decorated for the party. We had a real Christmas tree this year which probably needed to come down, but after a full inspection, it was still in pretty good shape to stay up for another week. I am sure in the future Jillian will be less than thrilled about incorporating her Birthday with Christmas so why not take advantage of it now?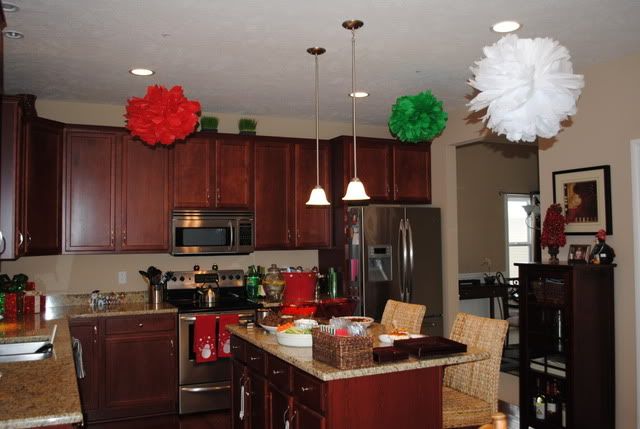 One thing I had to have as part of the decor for Jillian's party was the tissue paper poms. I have seen these adorable pom's all over the internet for showers and birthday parties that I thougth I would take a stab at making them myself. I am sure I have mentioned this before but I feel it certainly needs to be mentioned again. I am NOT crafty. I am more of a pre-made, store bought kind of girl so the thought of me trying to make something on my own was a bit intimidating. Nothing like trying to start a big project right before the big event. I asked a few of my bloggy friends about making these pom's and was reassured that they were easy. And they were right! My first one probably took around thirty minutes to make, but once I figured it out and got into a groove, I pounded out five more during one of Jillian's naps.
Look at how great they turned out!!!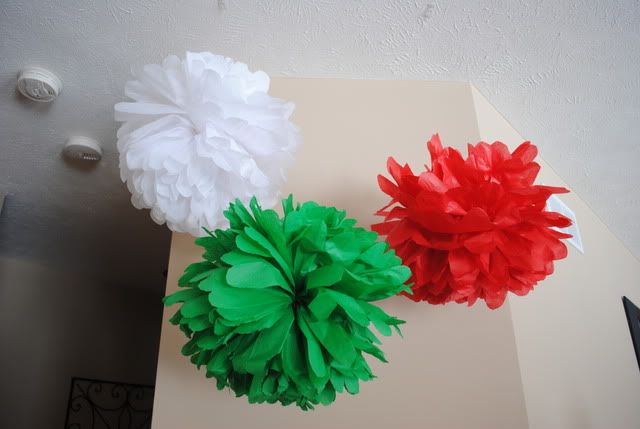 Our house was designed with a very open floor plan which is great for parties, however, I realized from previous events that everyone always seems to gather around the kitchen island. I wanted to create more flow to different areas of our main floor so I put together a dessert table. The cake served as the center piece and I placed the smash cake, cookies, and white chocolate chex mix all around it. I also hung three of the tissue paper poms above the dessert table to really accent the area.
I bought Jillian's cake at our local Giant Eagle. They do an amazing job and are very easy to work with. And, they also provided a free smash cake for first birthday's which I thought was really nice.
See how nice the smash cake looks? Well, this is the second one that we brought home.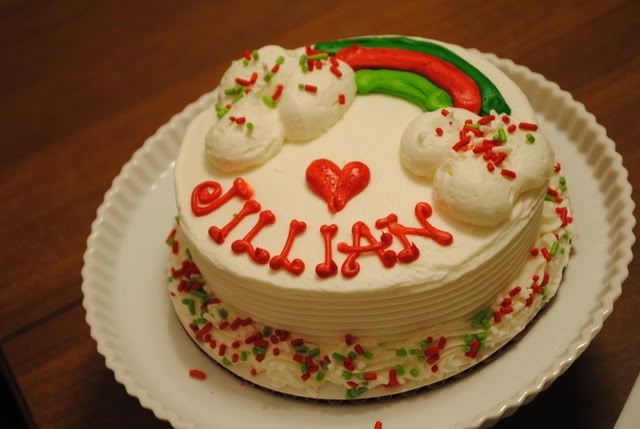 I was responsible for picking up Jillian's cake right before the party and when I got home, this is what I found in the back of my SUV.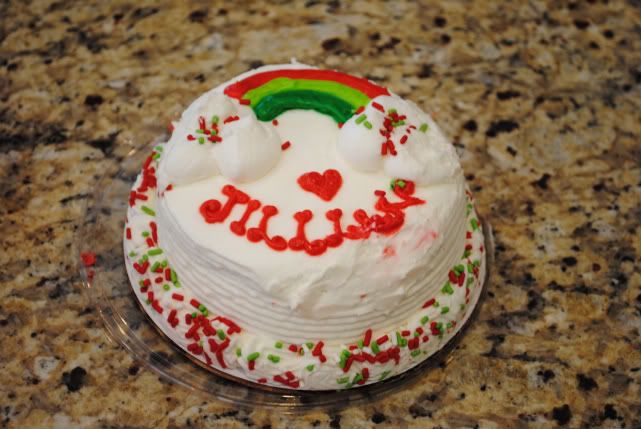 I was so mad at myself for not putting it in the front seat with me. I walked into our house completely in tears. I was mortified. I think Jeff thought I was completely nuts for crying so much over a upside down smashed cake so he called Giant Eagle for me an hour before guests were supposed to arrive and ordered me another one. I think all of the stress of party planning was really starting to get to me at that point and I melted down just like that cake did. I am sure one day I will look back at this picture and laugh but for now, it's still hurts to look at her name all squished.
I found these Pillsbury Christmas cookies and thought they would be a nice touch to the Christmas themed dessert table. They were so easy, you just place them on a cookie sheet and bake. My kind of cookies!!!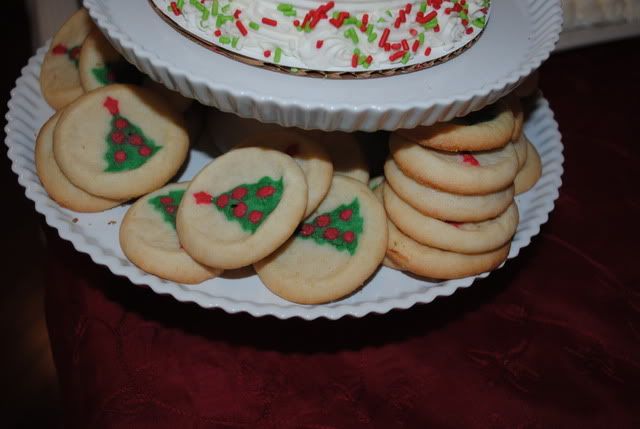 In our power room, I had a Christmas cookie candle burning and also set out a few Christmas hand towels. I also placed picture frames all over the house with Jillian's monthly photos. These were the same picture frames that I had used to name our guest tables at our wedding so it was special to be able to use them again.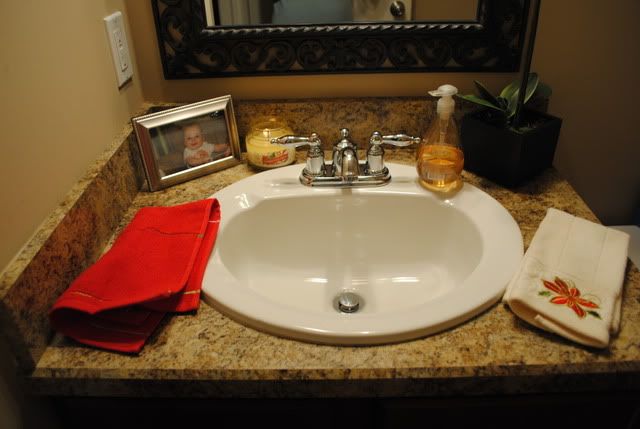 I had Jillian's gifts placed under and around the tree. One great thing about having a Christmas tree in the house for a birthday party was that it was a perfect place for gifts. No gift table necessary!! I also had Jeff light our gas fireplace to create a warm and comfortable atmosphere. Not to mention it was freezing cold that day! We had received six inches of snow the night before the party and a few more inches in the hours leading up to the party. Jeff had to shovel the drive way three times that day to clear a path for our guests!!
We had the party catered by Dino's Catering. We use them all of the time for our big parties. Their food is delicious and it also has a very special meaning to us. They are the same caterer of the Pine Ridge Country Club where Jeff and I got married and had Jillian's baby shower. It was also so nice not to have to worry about cooking food for a big group. Certainly a big time saver!!
I set up a beverage area in a corner area of our kitchen counter. My Sister-In-Amanda bought me this adorable beverage tub for Christmas and it was perfect to hold all of our cold beverages. I also bought the apothecary jar beverage for Jillian's Baptism several months ago and now use it for every party. It's great to fill with lemons slices so everyone can easily help themselves. I also purchased plastic cups decorated with holly leaves from our local party goods store.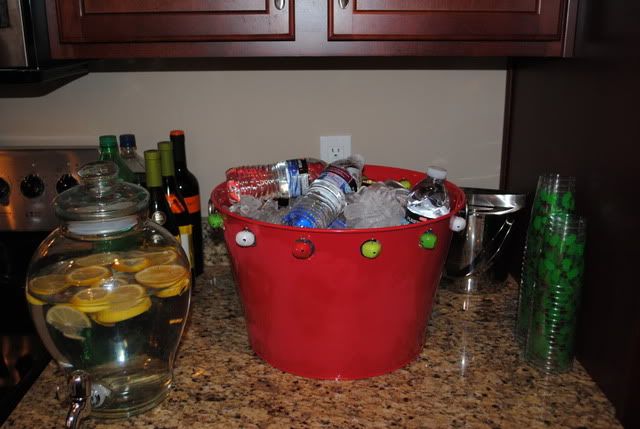 I found these light up presents at our local mall this year and thought they looked adorable on our kitchen counter. I think these are my new favorite Christmas decoration and can't wait to put them up again next year.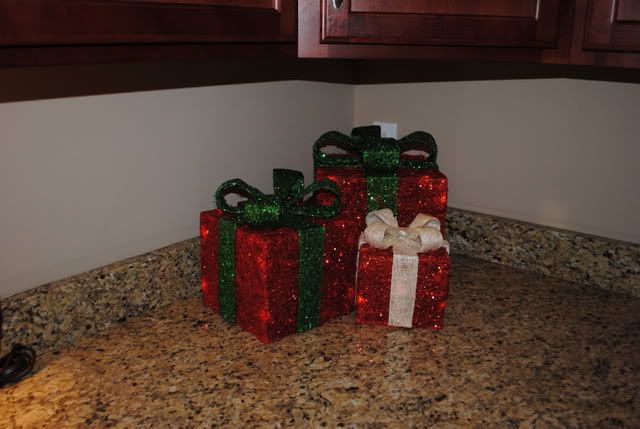 In the end, I think everything turned out so well!!!! It was certainly a crazy whirlwind these past few weeks trying to plan everything and take care of an active one year old. I spent every lunch hour during the work week running to every store imaginable. I was always on the hunt for clearance Christmas decor and Christmas themed party items. The big day flew by so quickly and I know everyone had a great time. Jillian is so blessed to have such a generous and loving family.
Tomorrow I will share with you the beautiful guest of honor herself, having the time of her life!
Thank you for stopping by this weekend! I am linking up to Weekend Bloggy Reading with
Amanda
over at Serenity Now.