Hi there and welcome to Day 14 of the Life of a Stay {At} Home Mom Guest Blogging Series!!! If you are just joining our Life of a Stay {At} Home Mom Series, welcome! Miss a post? You can find all the entries for our series listed for you
here
.
I am so excited to introduce Gia today from
A Life in Progress
. Gia and I are long time friends and actually met on
The Nest
! I used to love hanging out on the
Decorating and Renovating
Board (are you shocked?) where I used to get all sorts of home decorating inspiration. I also met a lot of inspiring women, several of them who still read my blog. Gia and I found each other because I discovered that she now lives in the same Cleveland suburb that I grew up in. That was just the start of what we had in common and we have been friends ever since!!! Please give a warm welcome to Gia!!!
................................................................................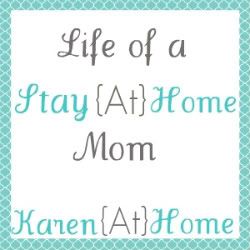 My name is Gia and I write over at
A Life in Progress
. I am so excited to be a part of a guest blogging series about being a stay at home mom, and even though I work full time for 9 months of the year as a high school English teacher, I volunteered so I could talk about my life as a working AND SAHM during the summer months. My husband and I are lucky to have full custody of both of my stepdaughters, Jamie who is going into the 9th grade and Alexys who is going into 8th. We also welcomed a baby boy, Logan, into our family in December.
I think the biggest reward of being home during the summer is that I get to spend extra time with my little man and our girls. During the school year, we get home and it is often frantically filled with getting ready for the next day, bottles, bath and bedtime, homework help, driving one of the girls somewhere, with cooking dinner somewhere in between. During the summer months, little man and I get to spend SO MUCH MORE quality time together. His sisters spend half the summer with their mom, so it is often just the two of us. Story time at the library? Yes! Lunches with friends? Yes! Play dates? Yes! SO many more opportunities when I am home for the summer.
Since I still receive a paycheck throughout the summer, there is not a financial challenge. BUT, I will admit, I often feel that ALL I DO is cook/clean/whatnot because I am home, so that is my job. And it gets annoying to hear "I'm bored" from my teenage stepdaughters. And sometimes I feel that we run out of things to do (or money to do them) and we are left sitting and staring at one another. This summer, I have really focused on activities and getting out of the house and not letting J and A sit in front of the computer or TV all day (seriously girls, HOW MUCH TIME can you spend on Facebook?).
Before I was married, I used to work a part-time retail job during the summer, then I was taking graduate classes. Once I graduated with my Masters, I decided to just enjoy my summers. I often have to spend time working on lesson plans and preparing for the next school year. As for crafts, I am using my time to work on Logan's scrapbook to be caught up so I can start getting ready for Jamie's high school scrapbook. I am not crafty nor clever enough to sell anything on Etsy, lol.
In regards to missing my work, at the end of the summer, I get really, REALLY antsy. I don't think I could NOT work, at least part-time. I miss adult conversation during the vacation and just getting a time-out. I love my girls and my little man, but sometimes I feel overwhelmed with C at work all the time and when he works late. I think this is because we are such a team during the school year that I depend on his help in the evenings.
I truly have the best of both worlds as a teacher. I am able to work and have adult-time and be home in time for the kids to get home from school and to have dinner on the table. I have weekends, all holidays, vacations and the summer off with my kids. One of the reasons I love being a teacher is because it allows me these freedoms. Besides having a love for teaching, this time off is a true benefit.
One of Karen's questions for her Mommy Guest Bloggers is
Do you plan on going back to work in the same profession or have different career goals?
I have my masters' degree in school administration and several times, the opportunity has arisen for me to apply for assistant principal positions. I have decided that at this point in my life, I do not want to move up the ladder, so to speak, because it would eat up SO much of my free time. I DO want to eventually work part-time, and be home earlier. It is definitely possible as a teacher, and I would love to be home before the little man gets out of school.
I will wrap this up by saying that being at home during the summer with a little one and two tween girls has really given me perspective on JUST HOW DARN HARD SAHMs work. My husband was out of town last weekend for 5 days for work and let me tell you...I was exhausted. Thanks for taking the time to read about my life as a (Part-Time) SAHM!