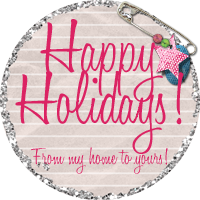 I can't even begin to tell you how excited I am to kick off the holiday season with a beautiful new blog design. This beautiful new look could not have been possible without the amazing creativity and hard work of Shannon at Persnickety Pages and More. Shannon by far exceeded my expectations in both her creativity and professionalism. Shannon also answered all of my questions promptly and with such patience because lord knows I had a lot of them!!!!

Shannon's knowledge on blog design is second to none and I feel very blessed to not only be one of her customers but also her friend. Shannon and I met several months ago when we both realized we had two beautiful girls named Jillian/Gillian. From that moment on we bonded over stories of our love for our girls, our love for Carter's, and our love for blogging. When Shannon is not spending hours on end creating beautiful blog designs, you can find her writing about her beautiful daugther Gillian Grace on her personal blog, Webbisodes.




I am also very excited that Shannon at Webbisodes
and I have teamed up to host our first annual Ornament Exchange amongst our readers! The rules are easy to follow and we hope you will join us in the fun and help us to spead some holiday cheer throughout blog land!

Ornament Exchange Details:

1. Sign up will run today (11/29) through Wednesday, December 1st at 9 p.m. EST.

2. To sign up, please email me at jandkontalbot@yahoo.com.

In your email please include:

-Ornament Exchange in the subject line

-Your first and last name

-Your mailing address

-Your blog address (if applicable)

3. Ornament Exchange partners will be revealed on Friday, December 3rd on my blog (Karen At Home), as well as Shannon's blog (Webbisodes). All participants will also be notified by email with their partner's name and mailing address.

4. Please purchase an ornament for exchange up to $15 in value.

5. All ornaments must be mailed between Monday, December 6th and Wednesday, December 8th.

6. All participants are asked to post and link up with pictures of their received ornament on Thursday, December 17th. A link up will be provided on both hosts' blogs (Webbisodes and Karen at Home).

7. We encourage all participants to grab the Webbisodes/Karen At Home ornament exchange button above and paste it into the side bar of your blog until the exchange is over. The more that know about the ornament exchange, the merrier!!!

Both Shannon and I hope that our first Ornament Exchange will be a huge success and encourage you to not only join us in a little holiday gift-giving fun. Please help us get the word out by posting about the ornament exchange on your blog. I hope you are as excited as I am about the ornament exchange, it's the perfect opportunity for us to get to know our readers and for you to make some new bloggy friends along the way!!!

Happy Holidays from Karen At Home (for the Holidays!!!) and Shannon at Webbisodes.