I have three Apothecary jars sitting on my kitchen island that I normally fill with plastic fruit to give a punch of color to our kitchen. You can fill Apothecary jars with pretty much anything and can change up what you are displaying to keep your

decor

interesting year round. One of the best things about decorating with Apothecary jars is the ability to change what you are displaying inside them depending on the season.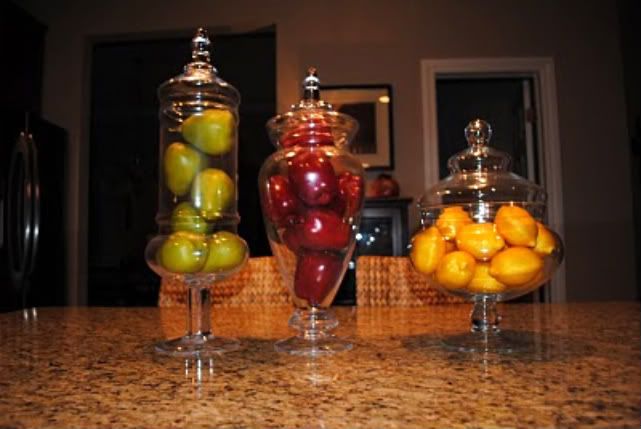 One of the decorating projects that I wanted to tackle this Christmas was to decorate my three Apothecary jars. And I wanted to do so without spending a lot of money. Glass ornaments can be expensive! Even a box of glass ornaments at my beloved Target can go for $5 a box of 7-10 ornaments. To decorate three large Apothecary jars, I was going to need at least fifty small to medium sized glass ornaments. I also didn't want to use up the ornaments that I already had reserved for our Christmas tree. So I decided to check out our local Dollar Tree and I was impressed! They had boxes of 7-10 medium sized ornaments for a $1 and sleeves of 15 glass-like small sized ornaments for $1.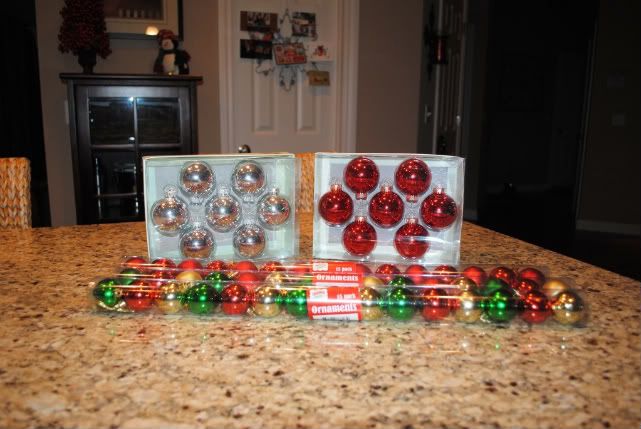 I bought two boxes of medium sized ornaments and three sleeves of small ornaments. I also wanted to only decorate in green, red, gold and silver ornaments to give it a simple and classic look. I already had a few boxes of glass ornaments at home in these complimenting colors to fill in where I needed to.
Here is what I did:
1. I emptied out my plastic fruit and stored them away in a bag for safe keeping. Afterwards, I washed and cleaned my Apothecary jars. Even though they are covered, dust from the fruit tends to settle on the bottom and fog up the glass. I was then ready to work with a clean slate.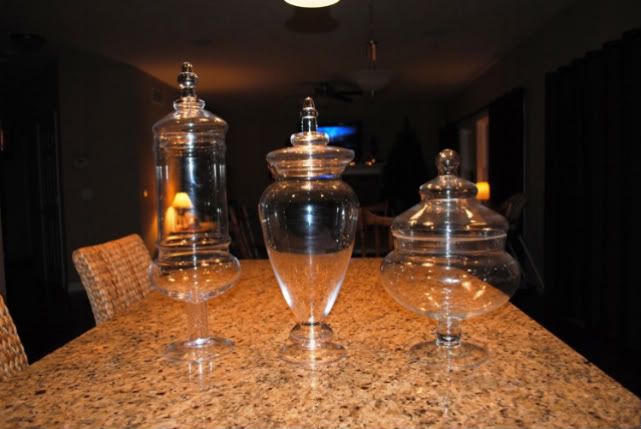 3. I then alternated layers of small and medium sized ornaments, filling in gaps as I went along. I filled each Apothecary jar the top.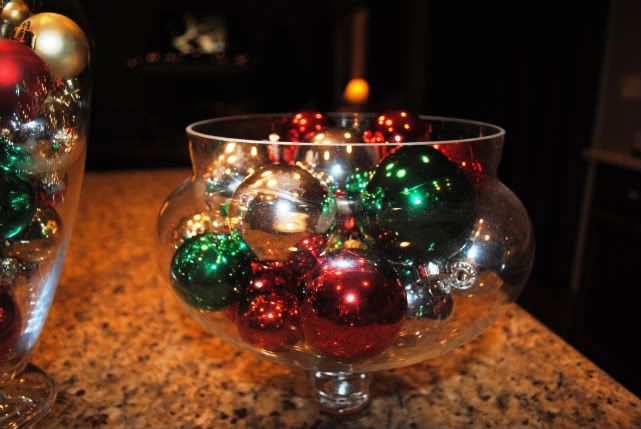 4. I put the lids back on and repositioned them back on the island. So easy!
What this project cost:

1. Three Apothecary jars - Purchased at TJMaxx Homegoods for $6-$8 a piece.
2. Glass Ornaments Size Medium - Two boxes of Glass Ornaments - $2.
3. Glass Ornaments Size Small - Three sleeves of Glass Style Ornaments - $3.
4. Also filled in with a few Glass Ornaments I already had.